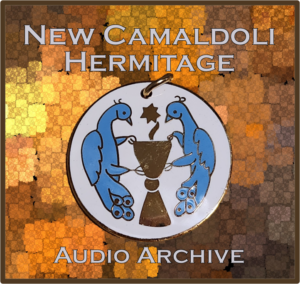 Listen to talks from Camaldolese monks and friends, including Bruno Barnhart, Robert Hale, Bede Griffiths and others.
The beginning of a long-term project to expand and enhance the New Camaldoli Hermitage Audio Archive, more talks and features will be added in the coming months.
Please enjoy browsing the Archive and stay tuned!
https://newcamaldoli.engagewisdom.com/nc
Since the 1970's, New Camaldoli Hermitage has amassed a collection of over 1200 cassette tapes of talks by community members and friends. Cassettes deteriorate over time. It is important to preserve these precious resources for future generations before they are damaged beyond repair.
After several false starts, oblate Chris Olson has sponsored and coordinated a partnership between NCH and Oakland-based Engage Wisdom to preserve and host this audio collection.
The Engage Wisdom team has completed the digitizing and restoration of the tape collection. Chris and a team of curators including Jacqueline Chew, John Gribowich and Richard Flout are hard at work identifying speakers, dates and topics in order to make the talks available in a searchable online archive. They have now completed a pilot collection of 250 talks and made them available for public access.